Defend Your Roof with Soffit & Fascia from Giancola Aluminum
Your roof overhang is susceptible to damage from moisture accumulation and extreme temperatures. Fortunately, you've got a secret weapon; with an aluminum overhang system from Giancola Aluminum Inc., you can keep exposed sections of your roof in great condition for years to come.
Some of the advantages of aluminum soffit & fascia include:
Long-Lasting Results – Our aluminum products feature an attractive baked-on finish that doesn't peel, crack, or blister. Aluminum is an excellent choice for protecting your roof, as it prevents heat from building up without splitting or warping.

Improved Energy Efficiency – Vented soffit panels can allow for better air circulation, which helps to prevent energy loss and deteriorate.

Improved Home Value – By protecting your roof overhang, you add a practical, maintenance-free feature that can improve your home's overall value.

Versatile Options – Choose from high-quality aluminum materials manufactured by skilled craftsmen in our 50,000 square foot facility.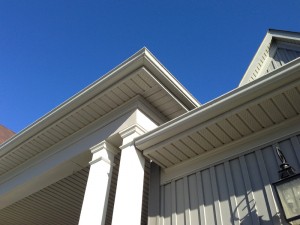 Giancola Aluminum Contractors Inc. offers full installation services for soffit and fascia.
Our team has decades of combined experience with various types of homes, and we stand behind our work with comprehensive warranties.
Work with A Trusted Leader!
To get started, call us today or fill out our contact form for a FREE consultation.
Call Us Today: (416)­ 674-5226
Suppliers