Add Posts or Columns to Your Home for a Better-Looking Entrance
Traditional wood posts are susceptible to weathering, deterioration, and other issues.  With aluminum exterior posts from Giancola Aluminum, you can add a durable, beautiful touch to any home.
Our products are engineered for safety, and we take care when creating and installing each post.  Giancola Aluminum uses high-quality materials, which ensures better safety and durability.
Features of our posts include:
Corrosion Resistance - Our products use a quality finish that prevents corrosion in virtually any weather conditions.  They're available in a variety of styles to perfectly complement any home.

Exceptional Safety Features - Aluminum posts are stronger than PVC or wood and will never crack or warp.

Low Maintenance – You'll never need to perform any preventative maintenance on our posts or other aluminum exterior products.  Other than the occasional wash, you don't need to do anything to enjoy the fantastic results.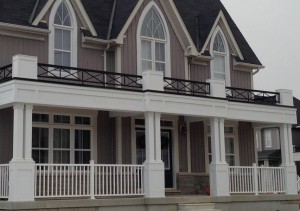 Giancola Aluminum Contractors Inc. also offers installation services for aluminum fences, rails, posts, and columns. 
As with all of our products and services, we stand behind our work and offer a comprehensive warranty.
Work with A Trusted Leader!
Call us today
or fill out the form on this page for a FREE consultation.
Call Us Today: (416)­ 674-5226
Suppliers