Keep Your Property Safe with High-Quality Aluminum Railings
For many properties, railings are an essential safety feature.  They can also provide an attractive aesthetic touch, and our aluminum railings deliver the perfect blend of strength and beauty.
Features of our railings include:
Options for All Types of Homes - We create railings in a variety of sizes, styles, and finishes to match any type of home.

Stronger Than PVC or Wood – Giancola Aluminum offers strong railings with quality craftsmanship.  Our products are safe and durable enough for years of quality service.

Weather Resistance - Giancola's aluminum exterior products are designed for all weather conditions and effectively resist corrosion.  We also use a quality finish to prevent fading, cracking, and other aesthetic issues.

Low Maintenance Requirements - Aluminum is a superior option for busy homeowners; it washes easily and doesn't require any type of protective maintenance.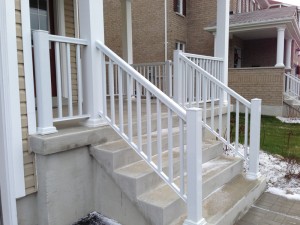 Giancola Aluminum specializes in providing high-quality aluminum products for residential exteriors, and we follow strict standards to ensure reliable, consistent results. 
We manufacture our aluminum products in an advanced 50,000 square foot facility, and our comprehensive warranty provides you with peace of mind.
Work with A Trusted Leader!
Call us today for more information
or fill out our form for a FREE consultation.
Call Us Today: (416)­ 674-5226
Suppliers